HANDCRAFTED,
ORGANIC BABY &
TODDLER MEALS
BIG FLAVORS FOR LITTLE TUMMIES.
"We have tried several of the Tummy Thyme finger food meals and they have all been absolutely delicious! I love how they are so easy to prepare yet still so healthy. I also love that it is all organic with real ingredients! Both my toddler and I enjoyed the food. I highly recommend!" - Dana, Los Angeles
"We tried basically every young child food delivery service out there. Tummy Thyme seriously blows every one of them out of the water! We had such a hard time finding 100% organic, and when we did, the food was bland (if not totally gross). We are continually amazed at how tasty Tummy Thymes creations are, and to be honest, I order for the whole family, not just for my children." - Tim K.
"You can tell Talia (owner) puts a great deal of TLC in her products and service from the food itself, packaging, shipping, and to her accessibility. Best baby/toddler food delivery, along with the best customer service I have ever dealt with. I have experienced all the others. Tummy Thyme is the best across the board. Although we cook for our little one most of the time, I get Tummy Thyme to give her a variety of things every once in a while. This will be my go to for that!" - Inka G.
"As the owner of a Mommy and Me program in the Los Angeles area, I'm continually hearing from my parents how much they love and appreciate Tummy Thyme food for their babies and toddlers. It's not only healthy, delicious (yes, babies like delicious food!) and convenient, but it's also owned by a truly lovely, local mom. This is the kind of business I love to support. Confession, some of us big people really like the food too - it's pretty irresistible! Give it a try!" - Julie W.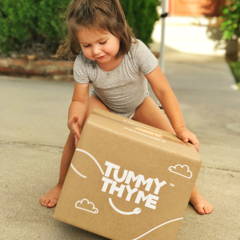 STEP 1. CHOOSE YOUR BOX SIZE.
Select the number of meals you would like in your box.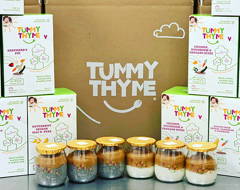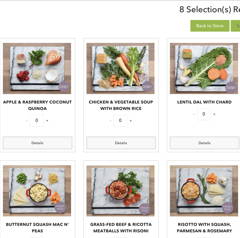 STEP 2. SELECT YOUR MEALS
Every 2 weeks choose from our full menu of high-quality, organic, hand-made children's meals.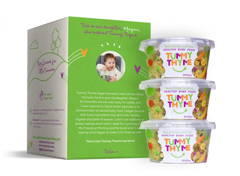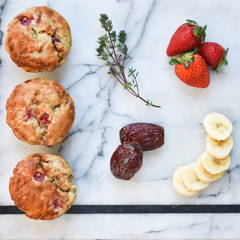 STEP 3. SIT BACK AND RELAX.
We do the cooking and deliver everything to your door.
Consider breakfast, lunch & dinner DONE.
Making it easy to feed your child the best!